ODE TO AN ICEBERG
                                                                - Inspired by the music of Paul Walde
I am sorry.
We are everything good
and all that is contrary.
We are kindness itself
and meanness looking for sense.
Our consciousness we raise
to infinite spheres.
And let it drop.
Indifferent to the ugly landing.
Many of us may try.
Others may achieve.
But as a whole we do not learn.
And for this
I am sorry.
              - 2021
Quince_Relatos_de_un_Amor_Desesperado.pdf
Hello - 
Spanish poetry e-book to download :  Quince Relatos de un Amor Desesperado - Fifteen Poems Recounting One Desperate Love. 
Bonjour - 
Recueil de poésies en espagnol à télécharger : Quince Relatos de un Amor Desesperado - Quinze récits sur un amour désespéré. 
¡HOLA!  - 
Esta pagina es dedicada a una seria de poemas que escribí al principio de los años 2000. Ideas de versos vinieron durante tres años hasta que el ciclo se termino con mas de quince poemas. De ahi el titulo : Quince Relatos de un Amor Desesperado. La idea de escribir en español se impuso de si mismo. Nacida en el Canada yo aprendi el español oralmente. Mi vocabulario es usual y mi ortografía dudosa. Pero las lenguas son como sonidos de instrumentos o la paleta de un pintor. En ciertos casos uno no escoge la lengua de un obra para crear pero la lengua lo escoge a uno. Y así empezó mi aventura lingüística con mucho ayuda de diccionarios - antes de Google! 
Es con mucho placer que los ofrezco este e-libro par bajar, leer y compartir.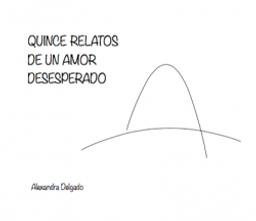 Quince_Relatos_de_un_Amor_Desesperado.pdf